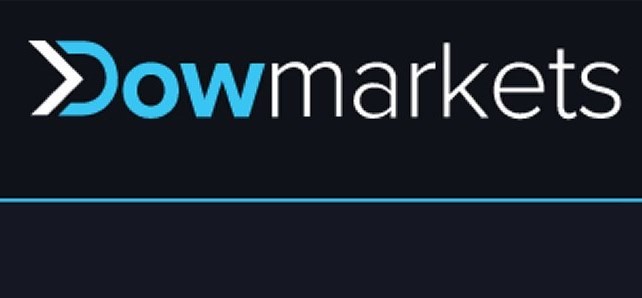 DowMarkets Review – Pros, Cons and Verdict
The rise of the Forex industry provided investors and traders immense opportunity to expand their financial portfolios. This, too, allows them to widen their margin of profitability as large financial options are made available for anyone who is interested. As this newly introduced trend continues to dominate the financial world, its benefits reach not only market participants but also the brokerage companies.
DowMarkets: an Overview
Foreign exchange firms mushroomed online with the intention of rendering the best Forex solutions. This is advantageous since the growing population of brokerage companies gives traders wider choices. However, some companies are eager to acquire clients that they often resort to fraudulence. As this issue persists for far too long already, many had grown skeptical over the credibility of foreign exchange. This explains why the internet is flocked with bad forex reviews and negative tags, including "why forex is a scam."
One foreign exchange platform subjected to constant criticism is the DowMarkets broker. Online results yielded negative feedbacks with tags, including DowMarkets cheat and DowMarkets fraud. This indicates that many clients have availed the services, and their experience finds the platform incompetent. Though many have attested to its malicious transactions, this DowMarkets review serves as an assessment not on whether Dowmarkets lies but on the services and solutions it offers.
DowMarkets Services
There's no better way than to check Dowmarkets official site to conduct an impartial review. The site has it that offers a contract for a different method of trading. Specifically, it enables one to avail of other services such as cryptocurrency, commodities, and bonds. What matters most is the efficiency one will get upon subscription, and such can be verified through offered instruments. A client is guaranteed to have an optimum experience as it utilizes the MT4 and xCritical platform. Both are known to provide an acceptable speed and efficient trading turnaround.
Going through the Dowmarkets site, a comprehensive interface will welcome users with four primary sections- Account Types, Instruments, About Us, and Education. Upon clicking the Account Types, users will then be redirected to a board that presents all accounts together with the conditions that come upon subscription.
START ACCOUNT- This account requires clients to have a minimum of $250 as a deposit charge. A welcome bonus will be availed after opening an account, but there are some features that clients won't be able to access, including the MT4 platform, stock trading, and VIP trading instruments.
SILVER ACCOUNT– Up to 40% bonus is entitled to clients who subscribe to a silver account. With a deposit of $3000, one can expect a decent transaction speed. Medium spreads are also granted together with other tools such as webinars, currency pair trading, commodity trading, and autochartist signals.
GOLD ACCOUNT- This type of account will cover a more advanced withdrawal speed while getting adequate information about investment and strategy trading. Spreads are lower compared to other types of accounts. Still, with bonus up to 60%, cryptocurrency trading, commodity trading, and technical analysis indicators, one will get the best out of gold account with a $10,000 deposit fee.
PLATINUM ACCOUNT– This type of account will leave clients with multiple solutions to choose from. With a $50,000 deposit, withdrawal is faster than the usual speed that other accounts render. It also offers an exciting 75% bonus to platinum subscribers. Users are given the privilege to access almost every feature of Dowmarkets with a promise of profitability supported trading education.
VIP ACCOUNT- With a $100,000 deposit, clients are entitled to all of the solutions that Dowmarkets provides. A range of trading structures, indicators, and other helpful instruments can be accessed, all while enjoying a 100% bonus. Its withdrawal speed is optimal, and one can ensure a fast transaction. This comes with a professional analyst ready to provide the most favorable insights about trading.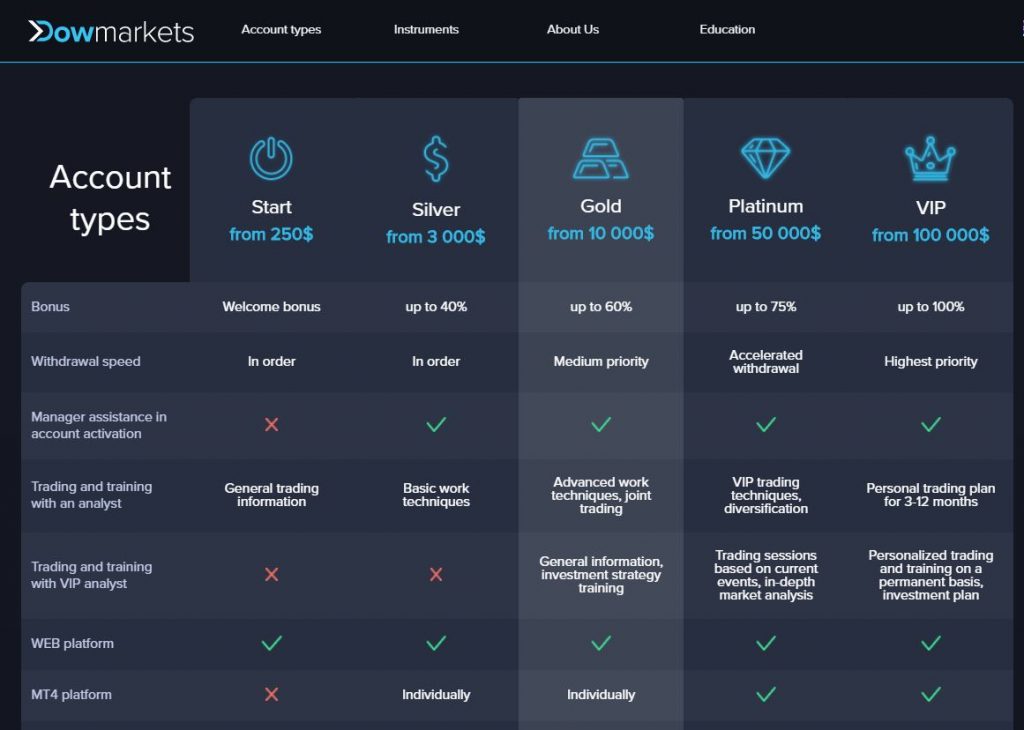 Other Offers
To fully equip clients with adequate resources and to ensure the most favorable trading experience, DowMarkets provides other helpful instruments to facilitate trading. DowMarkets.com site bears the most interesting supplementary tools, such as the economic calendar, which presents trends and events that occur in the financial landscape. It also provides economic news, comprehensive and well-written enough for traders to use for market evaluation.
One doesn't have to dive into opening an actual account. For those clients who want to test its functionalities further, it is offering a demo account for trial and evaluation. After forwarding the necessary information, a client will receive his or her own Dowmarkets login. Once it satisfied the customers, they can now move to open a real account. After payment and necessary transactions, an official Dowmarkets.com login complete with email and password will be given to the user.
An interested client who wants to subscribe may open an account and use any of the following methods of payment:
WebMoney
Visa
Qiwi
Mastercard
Maestro
Bitcoin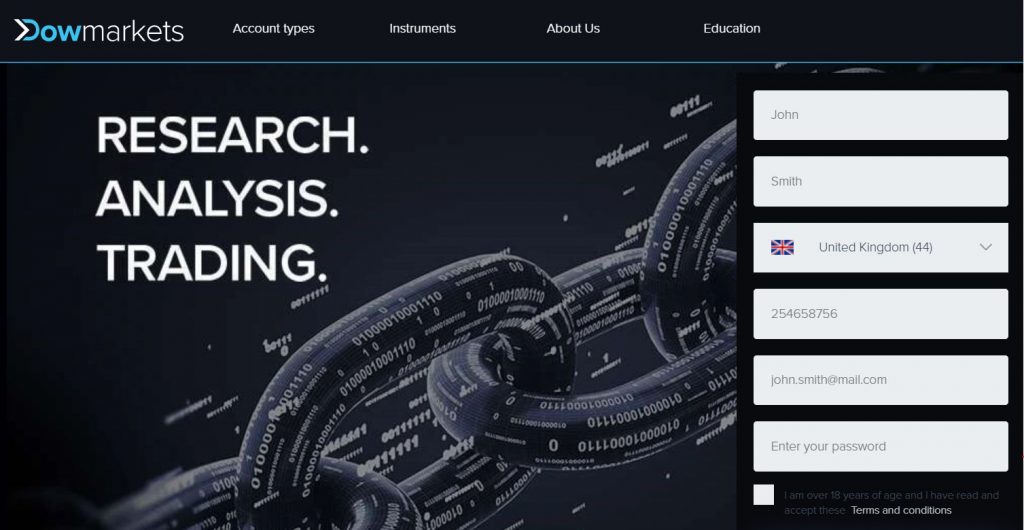 DowMarkets Customer Reviews
Scouting the net for DowMarkets customer reviews actually rendered positive results. Here's what two users had to say:
"I understand why some people tend to just call DowMarkets a scam. I mean depositing your money on an online broker you barely know can be daunting. However, my feelings changed when I got a hold of the online platform that DowMarkets uses.
It is intuitive and therefore really easy to handle. I get to see everything with just a few clicks. I really feel I have control of everything through the platform's many functions." – Antonio Silva
"I found the DowMarkets site to be really helpful, apart from the platform showing what the world's currencies and commodities prices are, the site itself partakes in it, making the site's users already privy to the prices early-on, even before they open the platform for Day Trading." – Michael Katz

Conclusion
Subjectivity might be one factor that explains all the negative DowMarkets customer reviews. It is safe to say that offered services and solutions are decent, having to check the platform myself. It considers clients' preferences, all while giving them interesting bonuses to keep subscriptions. However, there is a need for technical innovation and improvement since it shows tad performance compared to other competing platforms out there.
Platform assessment is essential as it validates whether online reviews come incongruent with the subject. One must first do some evaluation and not hastily believe the moment they see another DowMarkets scam tag online.