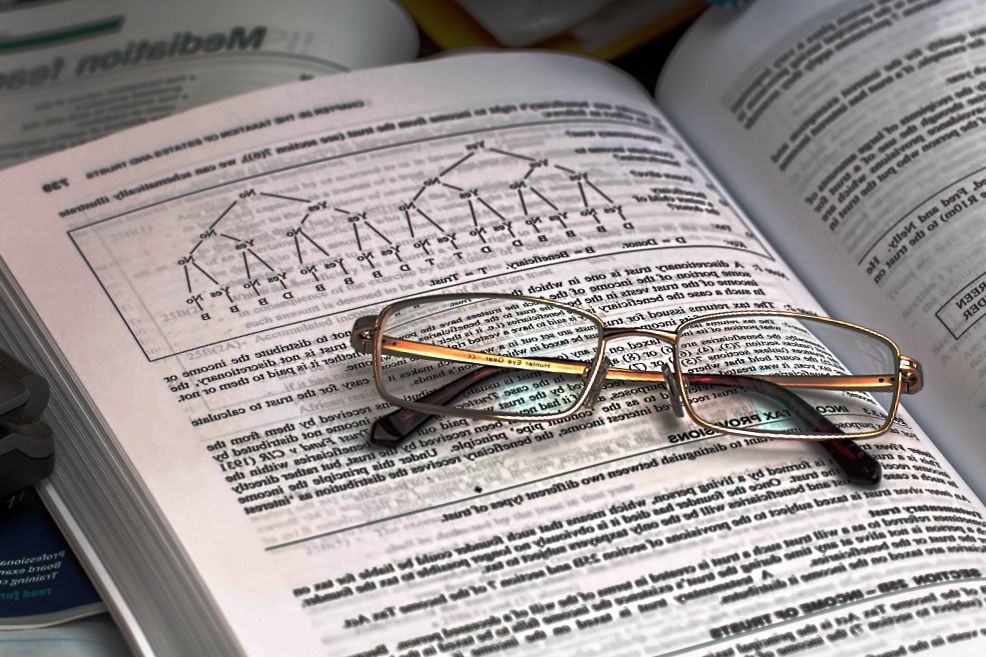 TradersWay Forex Broker
Posted on
November 5, 2020
Preliminary research regarding Trader's Way render highly polarized opinions and testimonies from the online trading community. There are those that had outright called out the brokerage for being a scammer due to being siphoned of their funds. There are also those that laud the firm's services, saying that they had completely gained from trading with Trader's Way and that the alleged scams were only being hurled by traders who don't know the business.
Admittedly, being depleted of one's hard-earned money after entrusting it to a brokerage is indeed tragic and debilitating. It is something that you wouldn't want to wish even on your annoying and imposing aunt on Christmas Eve.
However, there is also sound basis for the criticism against the fraud accusations. It is not uncommon to find traders who are not versed in how trading works; they simply are not aware, out of the unrealistic and immature wistful thinking that trading will always be successful provided one delves into the assets with best value. One thing that these people need to bear in mind is that trading is always a gamble. Markets, while bearing patterned behaviours always have the possibility of suddenly making unpredictable turns. The situation of Global economies also factor in, specifically during times of outbreaks, wars, and political conflicts.
With these being said, zeroing-in on the negative reviews regarding Trader's Way would be a disservice to its business, especially if there are positive opinions rebutting the ill ones.
However, many traders are put off by Trader's Way in that their financial services are being regulated by any financial authority. This throws further doubt on the firm's legitimacy and in part compromises its existing clientele. 
What to Expect From This Review
This review is a result of months spent with Trader's Way. The review team had employed an exhaustive test on all the broker's offers and services. The team aims at looking hard into these so as to see how these could contribute to the trading conditions that clients are meant to experience.
This literature aims at giving a pointed and informed assessment of Trader's Way's capabilities as a brokerage. In turn, the team's effort is geared toward assisting the review readers make a decision on whether or not they should be enlisting the firm's services. This review will focus on the following facets:
Trading instruments
Available trading platforms
Offered trading accounts
Account opening
About Trader's Way
TradersWay was established back in 2008 and has its head office in the Commonwealth of Dominica. It gives its clients access to the Forex and CFDs markets.
As already mentioned, Trader's Way is not regulated by any central regulatory body. To ensure its clients that it is looking out for the security of their funds, the firm enlists the assistance of Tier-1 banks that keeps the funds in segregated bank accounts. It is important to remember that Tier-1 banks are considered the safest and most secure of banks in the financial system as these kinds of banks bear sturdy core capital reserves. Tier-1 banks are preferred by financial regulators as these are resilient and impervious to unexpected financial losses.
However, it is to the opinion of the review team that enlisting the help of Tier-1 banks does not necessarily ensure clients that they would not fall into the clutches of a scamming entity. For what it's worth, only a regulatory body could secure traders from fraudulent entities.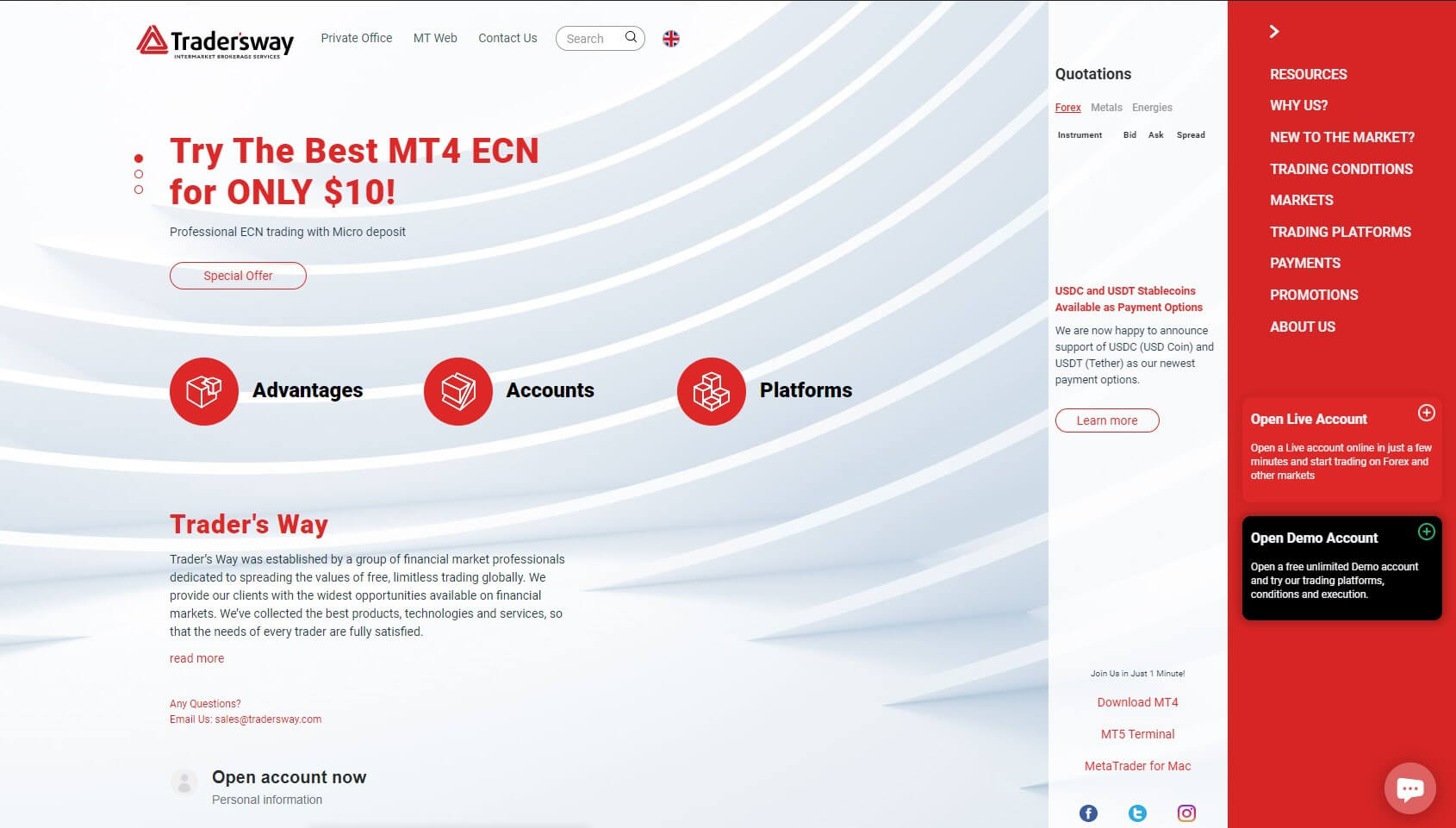 Offers and Services
Trading instruments
At present, Trader's Way gives access to the Forex, Metals, Energies, and Cryptocurrencies markets
The currency pairs available through Trader's Way include the EUR/USD, GBP/USD, USD/CHF, and the USD/JPY just to mention a few. For Metals, the broker trades in the Safe-Haven Gold and Silver. With Energies, Oil and Gas are traded. Finally, with Cryptocurrencies, the firm gives access to Bitcoin, Ethereum, Litecoin, and Ripple. These cryptocurrencies can be exchanged with the U.S. Dollar through the firm's trading platforms.
These asset offerings are more than enough to allow traders build noteworthy investment portfolios.
Available Trading Platforms
For trading platforms, Trader's Way offers MetaQuotes' MetaTrader 4 (MT4) and MetaTrader 5 (MT5), alongside its offshoots MT Mobile application and MetaTrader Web. Seen as wholly reliable and trusted by the entire trading community, a number of trading tools and add-ons are available through these MetaQuotes trading platforms. Both the MT4 and MT5 are equipped with numerous trading signals with highly-customizable and intuitive interfaces. On top of these, these platforms also avail its clients of Expert Advisor.
These MetaTrader Platforms are available through the MT4.ECN and MT5.ECN accounts that allow for DMA trading.
In addition, the MT platforms are also made compatible with the MacOS without the need of downloading compatibility software such as Wine.
Through Trader's Way's MT QuickDeal 2.0, the MT platforms are allowed with Market Depth Level 2 pricing and One-Click Trading. Coupled with the STP/ECN trading engine, the standard MT platform is transformed into a full-featured STP/ECN trading software.
Another trading platform that Trader's Way offers is cTrader. Yet another popular trading platform, cTrader allows for sub-millisecond trade execution, Level-2 pricing, and the absence of conflict of interest. The cTrader is apt for ECN trading. The application is available through web appropriately called cTrader Web and through mobile.
Trader's Way also brings cAlgo into the fore. What separates it from the previous trading platforms discussed here is its environment that is coding friendly and therefore apt for development.
Offered Trading Accounts
Trader's Way has four available trading accounts, these are:
MT4.VAR.
Here, Forex and CFD trading with floating spreads on MT4 Platform are available. The perks of having to trade through this type of account include clients being able to experience real market conditions with ECN/STP trading without being compelled to pay commissions.
MT4.ECN.
This account permits ECN Trading with direct access to interbank liquidity through the MT4 platform. Through this, spreads are at a minimum and start at 0.
MT5.ECN.
This platform allows for the trading of Forex, CFD, Futures and Cryptocurrencies.
CT.ECN.
ECN accounts are also available through cTrader. In addition, it also permits efficient manual and automatic trading through cAlgo.
Account Opening Fee
Opening any Trader's Way account only requires $10. This is seen as a plus given the many assets that the brokerage makes available. The review team had observed that brokerages that seek higher minimum deposits offer additional premium services on their available platforms, but entails greater risk of losing more.
Customer Reviews
The review team had collected a number of customer reviews from the worldwide web. Quoted here are three of the negative ones and three of the more positive ones.
Negative Reviews
I had 3 trades open on my live account all executed at the same time same lot size 1.00 (BUY) at 6am PST. My profit was definitely $350 at the time and I was waiting for it to increase. But everything stopped suddenly and my profit was -$350. I refreshed my computer and also opened my Tradingview account to see if my pairs have stopped, but to my surprise they were still going upward. My only option was to close out my profits because the platform for Tradersway was stuck during my live session. This is the second strange things have happened to my account with Tradersway. Therefore, do not add your money into this company because I feel as though these people are scammers. The only thing that works with this company is the demo account.
Ralph Jones 1 October, 2020
Tradersway is a ripoff, I took a 300 deposit to 17k and withdraw half, I had 3 winning trades opened at 500 profit and 9800 left in my tradersway account. Someone opened up crazy trades with outrageous lot sizes and wiped it down to 900. They say they don't have access to anyone accounts but its a lie. Im fighting to get my money back but im pretty sure it's not gone happen. Procced with caution.
Terrance 21 May, 2020
They are scammers. I had $33, I grew it to a point where by I maid $700. I made sure that my trades are close when few hours i go back to the market, my account is -$1.34. please beware of these scammers, guys. never ever use this broker and please share the bad experience with them!
Saziso shangase 2 April, 2020
Positive Reviews
Excellent Broker!!!
I started using Trader's Way as a recommendation from another trader and they have done a fantastic job! I've never had any issues with them. I noticed they have some poor reviews out there, but my guess is that these people just didn't understand how everything works. When I have had questions, their customer service has been exceptional in answering my questions in a very timely manner. I know using an offshore broker can be scary for some traders due to the lack in regulation, but I can definitely attest that they are a good honest broker to work with. In fact, I just made a withdrawal request for 5k on Thursday and it was in my bank account by Friday. Pretty great service if you ask me!
Dorothy, Oct 4, 2020,
Been with this broker for 3 years no problems at all
Fast withdrawal
Best spread plus commissions in the market
The support is amazing fast replies no BS
Gonna recommend to every trader out there
Kunal, Sep 10, 2020,
Overall a good broker – Dont listen to the "scam" reviews
Okay…so I've been trading for a long time. I've seen it time and time again… A trader gets frustrated and blows the account and they blame the broker… I get it… I get it.. we ALL of have been there. For me I learn and move on but for some they lie and say its a scam… straight up real talk here.
Tradersway is good… I honestly cant trust reviews anymore..
qhdevon43, Oct 6, 2020
Trader's Way: The Takeaway
The points discussed through this review paint enticing offers for non-TradersWay traders. Given the polarizing nature of the reviews, it would be wise to look hard into the services of the broker itself rather than relying on supposed client testimonies. With the facets of the broker discussed here extensively, it is easy to see how these would be beneficial to clients.
Probably the one legitimate red flag with Trader's Way is its lack of regulation. This is something that the broker needs to address to solidify itself in the industry.